Tendering is a process where companies call for suppliers to bid for business deals, contracts and projects. This process can be highly competitive, as all suppliers are usually welcome to submit proposals for these projects. For each tender, suppliers are required to submit the best possible proposal that meets the client's requirements, while also being cost-effective for their business.
The tendering landscape in Singapore is well developed, with over $53b transacted in government tenders alone in 2022 (based on TenderBoard's Past Tender database). Tendering opportunities are abundant for businesses looking to expand their operations.
In this article, we will explore some of the key steps that suppliers can take to tender successfully in Singapore.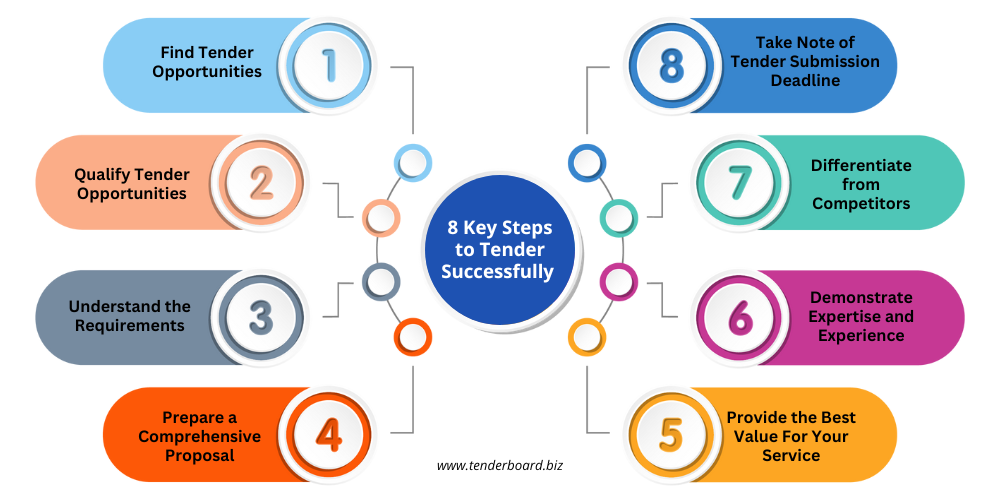 Find Tender Opportunities
The first step to tendering successfully is to find all available tender opportunities. There are over 40 tender sites in Singapore, which includes GeBIZ, Ariba, newspaper and company websites. Suppliers can manually search opportunities from these sites daily, or leverage Supplier Portals with automated aggregation services to help track relevant opportunities.

Qualify Tender Opportunities
After finding all opportunities, the next step is to qualify further to identify the best leads. Qualification should be systematic and based on a scoring system that allows your team to objectively define good from poor leads. Qualifications should be based on market research. This includes an honest review of your company's past performance of similar leads, the potential customer's purchasing habits, and competitors who are likely to also bid. A database of past tender information would be useful for such a qualification process, and systems like TenderBoard provide easy access for such research.

Understand the Requirements
Once a tender opportunity has been identified, it is important to understand the requirements of the tender. Suppliers' proposals that might have missed necessary details or do not meet requirements may be disqualified. Tender criteria will typically be outlined in the tender document that is either available for download in the tender site, or requires a physical pickup. Suppliers must carefully review the tender document to ensure that they have a clear understanding of the scope of the project, the technical requirements, the deliverables, the timeline, and the budget.

Prepare a Comprehensive Proposal
The proposal is the most critical part of the tendering process. This is where suppliers have the opportunity to demonstrate your expertise, capabilities, cost-effectiveness, and unique selling propositions. To prepare a comprehensive proposal, suppliers must ensure that they meet all the technical requirements outlined in the tender document, while also providing solutions that add value to the project. The proposal must be clear, concise, and easy to understand, and should include a detailed project plan, a timeline, a budget, and a clear explanation of how you will deliver on the requirements of the tender. With many requirements to meet and documents to submit, having a checklist is useful to ensure you have prepared everything necessary at the time of submission.

Provide the best value for your service
One of the primary considerations in any tendering process is cost to value ratio. Suppliers must ensure that your proposal provides the best possible value for the buyer while also ensuring that you price yourself competitively. Often suppliers either price themselves too high that they are no longer competitive, or price too low that they leave money on the table.
Researching past contract values on similar projects allows suppliers to price your services competitively so you position yourself to win, while ensuring you can make a profit on the project. To be cost-effective, suppliers can use other various strategies, such as optimizing supply chain, reducing overhead costs, and leveraging expertise to provide innovative solutions that reduce costs for the client.

Demonstrate Expertise and Experience
Clients are often looking for suppliers with expertise and experience in a particular industry. Suppliers should highlight your experience in the tender proposal, including providing examples of previous successful projects, providing client references, and showcasing their qualifications, certifications, and accreditations.

Differentiate from Competitors
Tendering is a highly competitive process, and suppliers must differentiate themselves from their competitors to win the contract. Clearly defining your unique selling propositions, such as past innovative solutions, exceptional customer service or proven track record, are qualitative advantages that can help you stand out. Suppliers must also ensure that you are offering a value proposition that is difficult for your competitors to match.

Take Note of the Tender Submission Deadlines
To ensure that the tender proposal is accepted, suppliers must follow the tender submission process outlined in the tender document. If the tender submission process requires specific formats or supporting documents, be sure to include this in your proposal or you may risk being disqualified. Deadlines are also important to take note, as buyers would rarely extend deadlines if you were to miss it. Suppliers must ensure that the submitted proposal complies with all requirements and is submitted before the closing date so the proposal will be considered for the project.
Conclusion
Tendering in Singapore is a highly competitive process, but with strategic planning and market research, suppliers can prepare your proposal to position yourself as the best supplier for the project. To successfully tender, suppliers must:
Find all available opportunities to qualify the best leads from there
Ensure you fully understand the tender criteria
Prepare a comprehensive proposal that showcases your value, expertise and differentiating factors
Take note of submission deadlines and milestones
This process can be time consuming and extremely tedious when performed manually, but Supplier Portal systems like TenderBoard's Supplier Portal can help to automate tracking and consolidating of tender opportunities and data analytics can help to quicken the process, saving suppliers time and money with each proposal. By following these steps, suppliers can increase their chances of winning tenders and expanding their operations in Singapore.