My Watchlist is now online! View all tenders in Singapore from a single place.
Submitted by Ken on 3 August 2015 - 12:01AM

We are super excited to announce the launch of a new tool, My Watchlist. We are constantly improving TenderBoard to serve you better and hope that you will find this new feature invaluable.
My Watchlist aims to solve a common problem that we see: that it is a challenge to keep track of all the tenders you are interested in over time. Our current tools, tender search and notification emails solve different problems:
Tender Search: allows you to search tenders from more than 20 tender hosting sites in Singapore from a single place. However, you need to search every time you want to find a tender, even if you previously searched for it.
Notification Emails: keeps you updated of new tenders on a daily basis. However, emails aren't exactly the best way to keep track of tenders.
My Watchlist – a personalized and curated list of tenders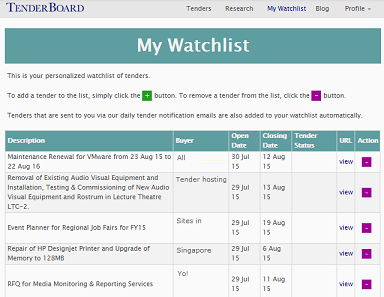 My Watchlist consolidates all the tenders that you are interested in, from all the tender hosting sites, and regardless of their current status (open, pending evaluation, awarded, cancelled, no award), into 1. Single. Place. With My Watchlist, you can easily review currently open opportunities, as well as look back at tenders you participated in or had marked to be tracked.
You can add tenders to the list in 2 ways:
From the tender listing page itself, by clicking the add to watchlist button (+) on the top right corner:

Direct from the search page, by clicking the add to watchlist button (+) on the appropriate row

To make it even more awesome, we insert all tenders sent to you via the daily tender notification emails into your watchlist. This way, your watchlist automatically stays up to date with the latest tenders that match your keywords.

We hope you enjoy using this feature. Do drop us a note to let us know how it goes for you.

Oh, and one more thing...

Increase in number of monitored tender hosting sites

Did we forget to mentioned we have increased the number of sites being tracked? We are now at 22.

So that's it for this round of updates. Do feel free to give us your feedback and suggestions.

Stay tuned for more, the work continues!