Tender Analytics now available. Use data to make your pricing or budgeting decisions.
Submitted by Ken on 23 September 2015 - 5:16PM

We are big advocates of using data to improve your tendering and are super stoked about this update. While our data has always been available for you to comb through, it hasn't been presented in a manner that facilitates analysis. This changes today! We are pleased to announce our latest feature, Tender Analytics, a data analysis tool that lets you make better tendering decisions.
Tender Analytics – a set of decision support analytics baked into every tender listing
When evaluating whether to bid on a tender or deciding what price to quote, have you ever wished you could look through the relevant past tenders to make a decision? Tender Analytics allows you to do this, and more, by analysing tenders previously released by that particular buyer and in that particular tender category.
Here's an overview of what the tender listing pages look like with Tender Analytics integrated into each page: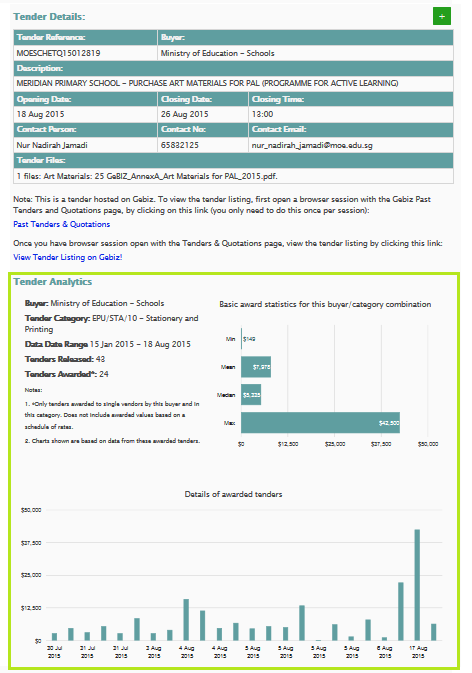 Current users who are familiar with our site will note the new stuff at the bottom of the page. After looking through the details of each tender, you can now move on to study the past data of related tenders. Tender Analytics comprises of 3 components:
General overview of tenders previously released by this buyer in this category:

Basic statistics of the previous tenders, including the Minimum, Mean, Median, and Maximum awarded values:

A detailed view of awarded tenders that provides the description and awarded information (awarded company, bid and date) of each tender:
This detailed view of previously awarded tenders by this buyer/ tender category is the centrepiece of Tender Analytics. The awarded tenders are listed in chronological order, and by hovering the cursor on any of the columns, you instantly receive data about that tender, allowing you to quickly gain insight into the competitive landscape. Further, if you need to study any tender in more detail, just click on the column and it will bring you to the record of that tender.
Both the general overview and basic statistics are available to all customers, while the detailed view capability is available to our Pro accounts.
Oh, and one more thing...
Increase in number of monitored tender hosting sources
We have increased the number of sites being tracked, and are now at 25. Furthermore, we have started tracking tenders in the newspapers (Straits Times Notices) as well.
We would like to thank all customers for supporting us and providing your valuable feedback. These have given us insight into what is important to your business and we remain focussed on doing what makes a difference to you. So please do share your thoughts with us.
Looking forward to bringing you more innovative features soon!