Industry Statistics and Benchmark Reports for Tenders Market in Singapore
Submitted by Ken on 11 December 2015 - 5:13PM

Our latest tool brings insights about each industry in Singapore's tenders market to your fingertips. Industry Statistics and Benchmark Reports are available for the 99 industries that we track on TenderBoard.
What's the purpose of these Reports and what can we expect?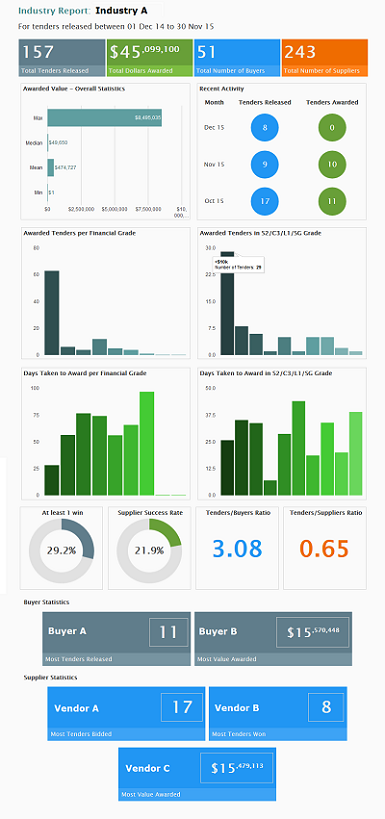 Each report explores the industry from various angles. Starting with high level metrics and then digging in deeper to provide specific information at the buyer and vendor level.
The intention is to not only provide you with an overall view of the market size and opportunities in each industry, but also to present information that you can use to benchmark your company with others within the same industry.
As most of the tenders released in Singapore are from GeBIZ (between 70% to somewhere close to 100%, depending on the industry), the data used to create these reports is mainly from these tenders. We are studying how we can blend in data from all sources and have a few ideas whose feasibility we are currently exploring (more on that next time!). Nevertheless, we believe that this forms a good base to start from.
Is this really stuff that we can act on?
Absolutely! Be it for strategic planning, or tactical moves, data is going to be important in how we do business. It is probably not mainstream yet, but those who start thinking about how to use data effectively will have a headstart. If you have any feedback about what other data and metrics are important or just wanted to chat about how data could be used for your business, feel free to drop us a mail!
Ok, give me the details!
The report starts off with the broad details about the industry, including the total number of tenders released and dollar value awarded in the past year or so, as well as the number of players in the market:

We also cover the general statistics for awarded tenders and recent activity in the industry: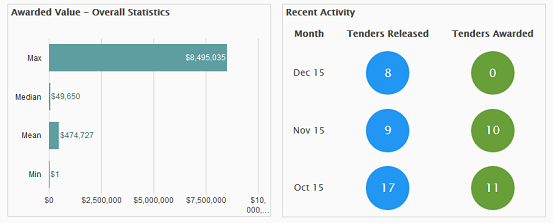 With the general stuff done, we go a little deeper and provide a breakdown of tenders according to their award values (these are tied to MOF's financial grades). We present data about the number of tenders as well as the average time taken to award tenders in each financial grade. Further, we noticed that a majority of industries had the bulk of tenders (by volume) happening in the lowest financial grade (S1, C3, L1 depending on your industry) and therefore decided to also present a chart that separated this financial grade further into 10 segments: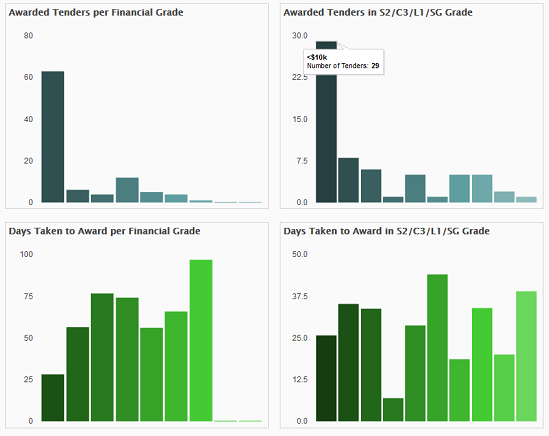 The final section of the report contains information that is more tactical in nature. The first 4 metrics in this section give a sense of how competitive the industry is:

The first metric, "At least 1 win", is the percentage of all vendors in this industry that have won at least 1 tender, while the second metric, "Supplier success rate", provides the average tendering success rate of all vendors. These 2 metrics give you a sense of where your company stands in the industry (if you have trouble keeping track of your success rate, fret not, we have another tool that we are launching soon that will give you insights at the company level). The next two metrics give a sense of how active each buyer is ("Number of Tenders per Buyer Ratio") and how much competition there is ("Number of Tenders per Supplier Ratio"). You can also take a look at other similar industries to see how "fierce" the competition is in each industry.
Finally, we end with a set of statistics for buyers and suppliers, presenting the most active organizations and companies in this industry based on either the number of tenders released/participated/won, as well as the amount of awarded value: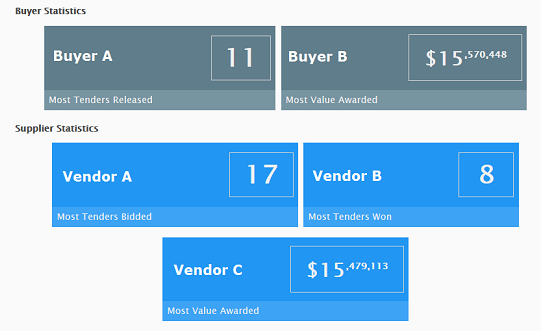 We welcome feedback!
Industry Reports are available to all Pro Tier accounts. Do contact us if you are not on a Pro Tier account and would like to get access to the reports. .
This is a work in progress and we will evolve this as we get feedback to make it more relevant for your business. Please feel free to contact us to provide feedback, we would be happy to hear from you! .
We will continue to innovate and bring you tenders from all sources in Singapore, as well as provide the tools you need to better position your company for success.